GWEN Modular Sofa G
By order
In stock
Out of stock
On backorder
Category:
Modular, Removable covers
Upholstery materials:
All the fabrics and variants in our collection are available
Measurements:
Height: from 78 to 107 cm
Depth: 113 cm
Seat height: 45.5 cm
*Throw pillows available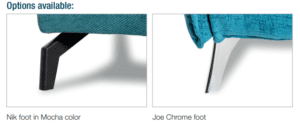 FREE DELIVERY TO MALTA & GOZO
FREE DELIVERY TO MALTA & GOZO
Request more details
Description
This model has completely removable covers. It is a sofa with tall feet. You can choose between two different foot models, according to the interior in which this piece of
upholstered furniture will be installed. It has a silent-operation multi-position pull-out
headrest mechanism, and seat cushions suspended on interwoven elastic webbing
bands. The sofa can be upholstered with two fabrics, as a result of the fabric panels
with fl at-felled seams that enhance the lines.
The armrests, while in keeping with the modern lines, are made more comfortable by
the slim cushions that enable the sofa to be used in more classical settings as well. The
lumbar cushion was designed as part of the sofa's permanent cushions, but it can be
removed, and the covers can be easily slipped off. This model's modular confi guration
can also comprise the storage ottoman with completely removable covers. This accessory can be incorporated both as a terminal unit for L-shaped arrangements, or as
part of a linear design, matching the sofa's fabrics and feet to perfection.
Back to top